For Joshua's headstone, we selected items that reflected what he cherished and what made him unique. Perhaps, describing a headstone might not be of interest to some, but a headstone and its design can provide some perspective and information into the life of an individual.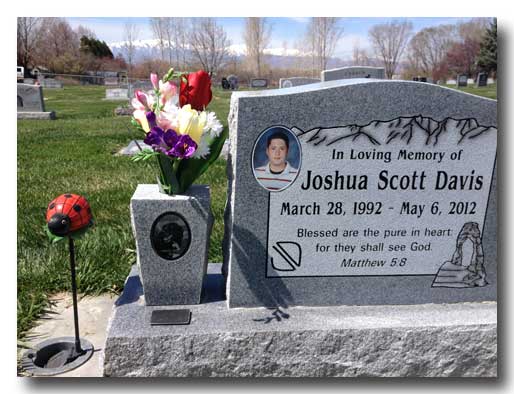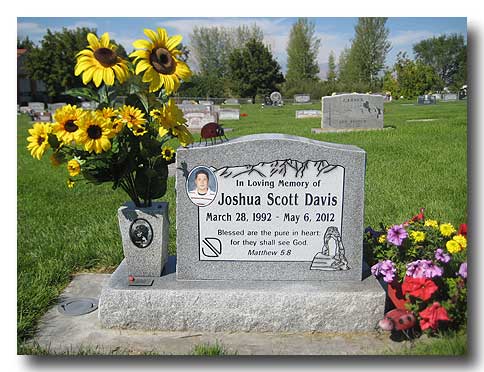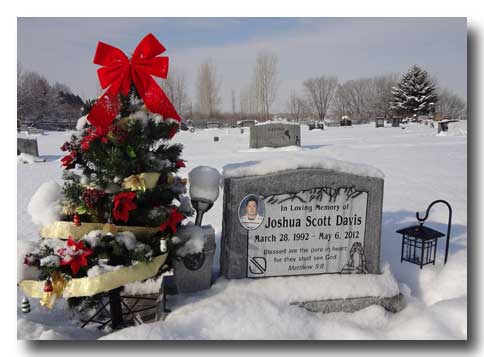 In my years of doing family history research, I often wished that a 150-year-old headstone had had much more than a name and a year of birth and death. In our case, I want to provide information that people will be able to read and learn about Josh.
After looking at headstones in the American Fork Cemetery where he is buried (and consulting with our other children), we decided on a stone made of Georgia granite from Elberton, Georgia. The sprinkler system at the cemetery contains a lot of hard water deposits, leaving streak marks and hard water deposits on the stones when they water the lawn. As a result, such water makes keeping headstones looking good somewhat difficult unless you make regular trips to the cemetery to clean them. Generally speaking, the lighter granite reveals fewer streaks than darker stone.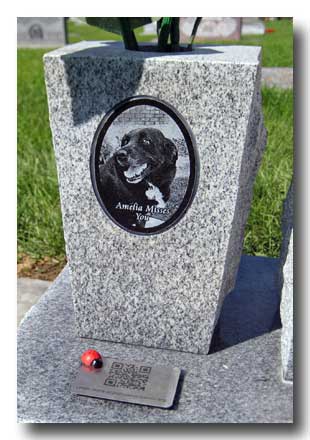 The headstone stands vertically, with the front of the headstone facing east. The headstone sits on a granite base which then sits in a concrete base. Two metal, drop-down vase sit in the concrete, which can then be pulled out to accommodate cut flowers—something Josh really enjoyed as I will reveal later on this page. To the right of the headstone rests a square granite vase. In the oval circle on the vase, a picture of Josh's dog, Amelia, has been lazer etched into a piece of black granite, with a Quick Response Tag below it. People can use their cell phones and a special app to take a picture of the code which will then take them directly to this Web site, allowing people to learn more about Josh.
Mt. Timpanogos
On the main headstone, we placed the mountain ridgeline of Mt. Timpanogos. When Josh was eleven years old, he and I hiked to the top of the mountain (elevation 11,749 feet or 3,582 meters) from the Timpooneke Trailhead, a total distance of about 12.4 miles roundtrip with approximately 4,600 feet of elevation gain. He considered this one of his most memorable experiences, as noted in his journal and in letters.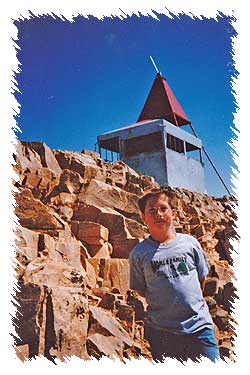 We started the hike at 8:00 a.m. packed with lots of food and water/orange juice and enjoyed a leisurely hike to the top. It was a very satisfying hike to conquer such a peak, especially since Josh felt a lot discomfort on the hike due to gastroesophageal reflux disease (acid reflux), in which acid from the stomach leaks into the esophagus. Imagine constant heartburn for most of your life that at times causes you to vomit.
Yet, in spite of this discomfort, we had a great time telling stories and seeing big horn sheep, a cow moose and its calf, and plenty of other creatures along the way. The entire hike, including a lot of leisure time, took us about 14 hours including breaks and meals.
There were other times when we did part of the hike with other family, but this was the only time we made it to the top together.

The rest of the ridgeline is probably somewhat unknown to most people, but members of our family have spent a lot of time on this mountain hiking near and around North Peak, Bomber Peak, Mt. Mahagoney, and Big Baldy.
We also placed his eleventh-grade picture from school on the headstone. After looking at many other pictures, including those from his senior year, this picture seems to capture his expression best. In particular, whenever Josh was formulating a humorous thought in his mind, you often could seen this thought forming first in his grin. In many of his other pictures, you could tell he made a somewhat of a "okay-just-take-the-picture-already" sort of smile, but his smile in this one was truly natural.


Personalized Monogram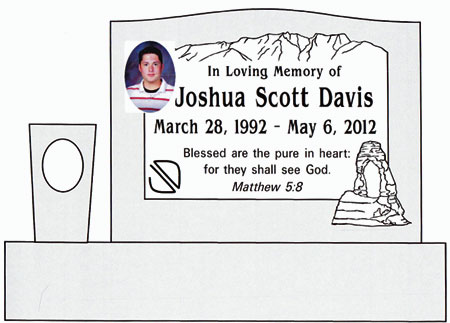 Josh also took great pride in computer graphics, photography, and art in generally, and he spent a great deal of time coming up with his own, personalized monogram with his initials, JD. Although not very apparent, he wanted to infuse some artistic creativity by spending more effort to create soft curved lines in the monogram, rather than easily-authored straight lines. He put this on his letterhead and perhaps would have used this in other school and work-related projects.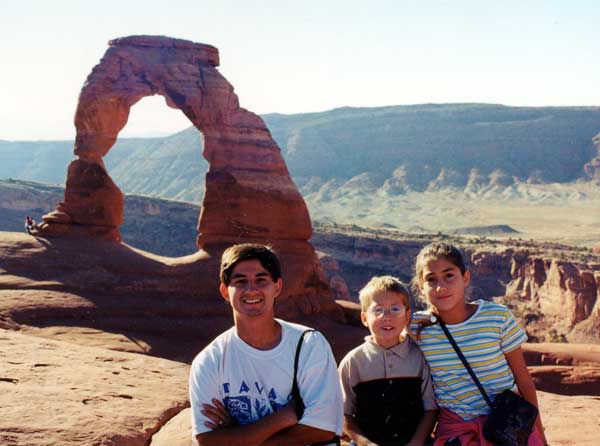 Our family made numerous trips to Moab and Arches National Park in Southern Utah about a four-hour drive from our home. Josh loved the outdoors and hiking, and we often tried to take the less-traveled paths and hikes throughout the park, including a jaunt to Tunnel Arch (not the one listed on the park map).
During most of these hikes, I would tell the kids stories that mostly dealt with two main fictional characters, Donguriguri-kun (roughly translated, acorn boy, in Japanese) and his older sister, Maria, and their fantastic space adventures. (It would take too long to explain the complete background of the story on a Web page like this.) I started telling my kids these stories around 1998 or so, and whenever we go on hikes now, I continue variations of the story to this day. The stories seem to pass the hours and hours we spend on the trails.
In the Moab area, we also spent time river rafting, canyoneering, and pool plunging. We also stopped time and time again at one of our all-time favorite dining places: Wendy's. Nothing like a tall cold chocolate frosty at the end of a long day.
Sometimes, we camped, and at other times, we slept in the car at a gas station; still other times, we stayed in a hotel. Whatever the case, we had a great time talking, laughing, playing, and just growing closer together. You often don't realize how special such times are until your kids start writing about them in their letters and journals as some of the best memories of their lives.
The amazing thing was that the kids could walk up 8-10 miles a day in the hot desert, and as long as I could keep the stories going, and we had plenty water, orange juice, and food to sustain us, the kids didn't seem to pay attention to the distances we were covering. Not bad for young kids.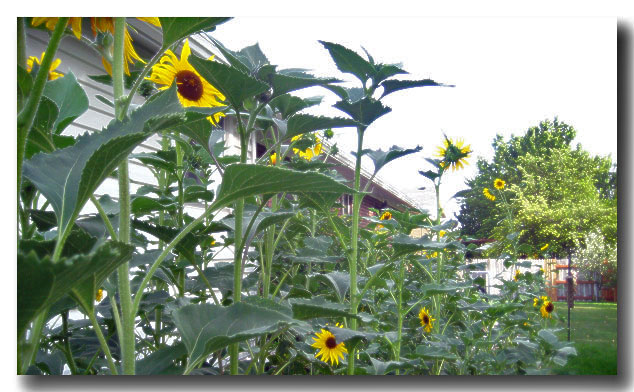 The final image on the back of the headstone is of a sunflower. Josh was particularly fond of sunflowers, and every year, he would plant a sunflower garden in the backyard and under our bedroom window; the flowers sometimes reached 12 feet or more. He knew that the flowers would give us year-round enjoyment because in the summer, they provided shade from the hot afternoon and evening sun, and in the winter, birds would feed off the seeds of the flowers that still were standing throughout the harsh snowy conditions.